The Terrible Secret is an item in the fifth catalog, Miss Nancy's Guide to Stylish Living .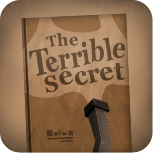 The item is a book that has a picture of a chimney on the front. When burned, someone shushing could be heard. It cost 23 coins and takes 25 seconds to deliver.
Description
Edit
The smoldering first book of a terrible trilogy!
The Terrible Secret+Mystery Seasoning=Terrible Mystery COMBO
The Terrible Secret+Book of Darkness+Creation Science=Book Club COMBO Trololol