The Boss Plushie  is an item you get from the fourth catalog, 1st Person Shopper.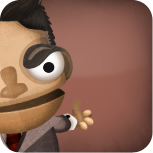 A plushie that looks like a typical businessman.  It makes human-like noises when touched . Laughs when burned. It costs 15 coins and takes 20 seconds to deliver.
Description
Edit
No one suspected the slick businessman was the villain the whole time.
When touched, a busy subway station could be heard
When burned, an ambulance siren could be heard 
This is a reference to the game Boss. 
Ad blocker interference detected!
Wikia is a free-to-use site that makes money from advertising. We have a modified experience for viewers using ad blockers

Wikia is not accessible if you've made further modifications. Remove the custom ad blocker rule(s) and the page will load as expected.