Spontaneous Combustion Doll is an item in the fifth catalog, Miss Nancy's Guide to Stylish Living and is the last item in the catalog.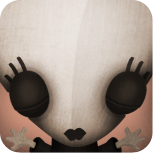 This item is a black and white female like doll who has its eyes closed. When touched, it makes noises similar to a zombie. It sets on fire easily, and when burned, it opens its eyes as haunting music plays. It sets other items on fire as well before it and any item that was in the fireplace vanishes. It cost 180 coins and takes 3 minutes and 45 seconds to deliver.
Description
Edit
Never look directly into her eyes.
This item could be loosely based off of the mythological creature Medusa because the description warns you 'not to look directly into her eyes'.
Ad blocker interference detected!
Wikia is a free-to-use site that makes money from advertising. We have a modified experience for viewers using ad blockers

Wikia is not accessible if you've made further modifications. Remove the custom ad blocker rule(s) and the page will load as expected.