Powder Barrel is an item in the fifth catalog, Miss Nancy's Guide to Stylish Living.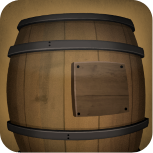 The item is a barrel/keg that can some reason not sit up right. When burned, the item explodes in a colorful explosion. The flames then changes from a range of colors for awhile till the flames changes back to its normal color. It cost 45 coins and takes a minute and 15 seconds to deliver.
Description
Edit
A fanciful fiesta of explosive colors!
Powder Barrel+Beta Version+Zesty Beetles=Colorful Flame COMBO
Ad blocker interference detected!
Wikia is a free-to-use site that makes money from advertising. We have a modified experience for viewers using ad blockers

Wikia is not accessible if you've made further modifications. Remove the custom ad blocker rule(s) and the page will load as expected.