Old Lady Doll is an item in the fifth catalog, Miss Nancy's Guide to Stylish Living .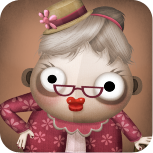 The item is a doll that looks like an old lady. When burned, flies fly from the item. It cost 23 coins and takes 25 seconds to deliver.
Description
Edit
Perhaps she'll die.
Old Lady Doll+Gentleman Adventurer Doll =Elderly Couple COMBO
Old Lady Doll+Kitty Kitty Poo Poo Plushie =Cat Lady COMBO
The Old Lady Doll releasing flies when it burns is based off of the nursery rhyme "There was an Old Lady Who Swallowed a Fly ", which is about an old lady who swallowed a fly. This is also backed up by the Old Lady Doll's description, which was said at the end of every verse in the nursery rhyme
The Old Lady Doll is on the $20 bill that comes from the Someone Else's Credit Card item
Ad blocker interference detected!
Wikia is a free-to-use site that makes money from advertising. We have a modified experience for viewers using ad blockers

Wikia is not accessible if you've made further modifications. Remove the custom ad blocker rule(s) and the page will load as expected.