Oil Painting is an item in the fifth catalog, Miss Nancy's Guide to Stylish Living.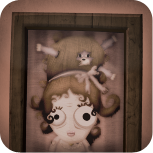 The item is an oil painting of a little girl with strange objects in her hair. When the flame gets near the painting, it starts to morph and warp. The painting burns rather easily. It cost 35 coins and takes 50 seconds to deliver.
Description

Edit
More colorful and vibrant than the real person.
Oil Painting+Little Inferno Collector Poster+Someone Else's Family Portrait=Framed COMBO
Ad blocker interference detected!
Wikia is a free-to-use site that makes money from advertising. We have a modified experience for viewers using ad blockers

Wikia is not accessible if you've made further modifications. Remove the custom ad blocker rule(s) and the page will load as expected.