Fire Extinguisher is an item in the fifth catalog, Miss Nancy's Guide to Stylish Living.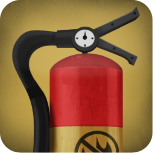 The item is a fire extinguisher, as said in its name. When burned, the Fire Extinguisher burst and white smoke escapes from it. If the Fire Extinguisher is placed next to another burning object, when it burst, it'll put out the fire within its small radius. It cost 35 coins and takes 50 seconds to deliver.
Description
Edit
Extinguishes everything but a burning heart.
Fire Extinguisher+Smoke Detector=Stop Drop & Roll COMBO
Ad blocker interference detected!
Wikia is a free-to-use site that makes money from advertising. We have a modified experience for viewers using ad blockers

Wikia is not accessible if you've made further modifications. Remove the custom ad blocker rule(s) and the page will load as expected.